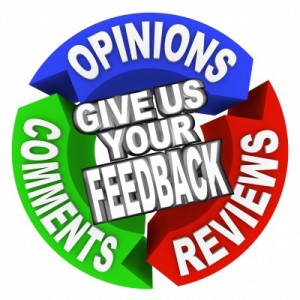 We have hundreds of satisfied throughout the North Bay Area (San Francisco). How do we know? They keep calling us back to serve their area rug and carpet cleaning needs. Also, they tell us we're the best carpet cleaning service they've used. Here are some carpet cleaning reviews on Advanced Dry Carpet Care for carpet cleaning, area rug cleaning, upholstery cleaning and tile and grout cleaning.

Carpet Cleaning Reviews:
Notes from Advanced Dry Customers

Hey Dave, Just wanted you to know how happy we are with the work you did at our dog ravaged house. The carpets look almost new again! I did post on Next Door so about 1600 people will read the accolades and it would surprise me if you didn't get some new customers! Really, excellent work and they were dry in, just like you promised, 2-3 hours. – Marcy, Petaluma, Feb. 2016
Thanks so much Dave…I so appreciate your attention to details and knowledge of carpet care. Our realtor stopped by and could not believe that it was the same carpet – he thought we'd bought new!  He was very impressed. We will be in touch when it is time to clean again and will refer you liberally to our friends. Sincerely, Nan, Santa Rosa, 2014
"I have managed an apartment complex here in Santa Rosa, CA for 16 years and for the last 10 to 12 years I have been using Advanced Dry Carpet Care. Simply put it's the best product and service I could ever ask for. They have turned the ugliest stains into vanishing memories repeatedly…As long as I am here at The Rosemont Apartments my first and only choice will be Advanced Dry Carpet Care." – William Matty, Santa Rosa
"Thank you Dan! Great carpet cleaning service and method." – Laura Neditch, Homemaid Residential Housecleaning Service
"Thank you for an excellent job, and your cooperation in arranging to do the work on the only day that I had available. I appreciate it. Incidentally, I've already given your name to a prospective customer." – Sylvia Speyer
"I was very pleased with my carpets. The young man did an excellent job and he was very friendly and pleasant." – Gail Smith
"I [want to] show my appreciation to both Chad & Eric. They were both so kind, efficient and did an outstanding job on my old carpet. In fact a tar stain that was here when we moved in was successfully removed by these two young men – even after I told them not to worry about it. It wasn't until last evening when I put everything back in its place that I realized just how much this did in making the carpets look almost new! Thank you all." – Cecelia Russell
More Carpet Cleaning Reviews
Yelp Carpet Cleaning Reviews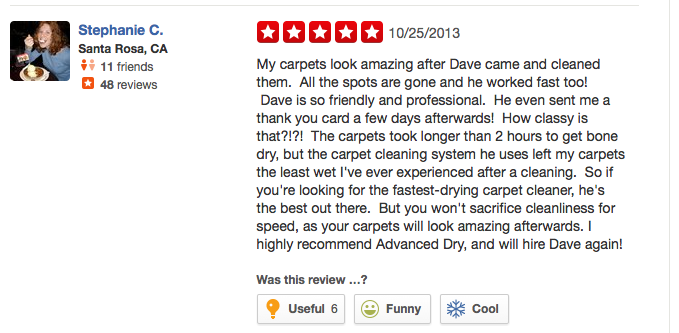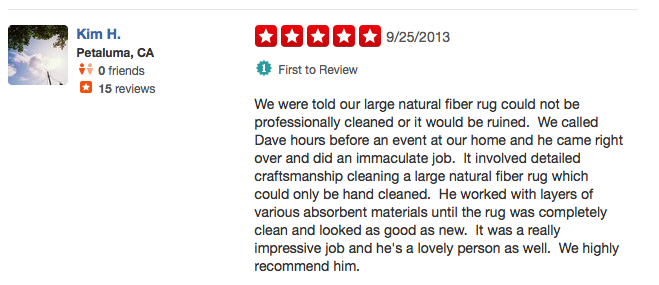 Thumbtack Carpet Cleaning Reviews


What About You? If you have used Advanced Dry Carpet Care services we'd love to hear from you. Tell us what you think of our service by leaving a comment or sending an email, using this form:
Advanced Dry Carpet Care & Upholstery Cleaning has been independently and locally owned since 1983. We serve Sonoma County and Marin County, with customers in Healdsburg, Santa Rosa, Petaluma, Novato and many points in between.
Call us for Carpet Cleaning Petaluma – 707-575-0114
or Contact Us
Topic: Carpet Cleaning Reviews
Carpet Cleaning Reviews Image credit: iqoncept / 123RF Stock Photo