Clean,
Green

and Dry!
Low Moisture Carpet Cleaning in Three Steps.

When we clean your carpet with our unique Teri-Towel system, we employ three simple steps:
1. Vacuuming.
We start our process with a thorough vacuuming. Soil comes up more easily if it is dry. Once we get up all we can with dry vacuuming, we're ready for the tougher soil.
2. Spraying.
We apply a light spray of our unique, all natural cleaning solution (no harsh chemicals) to your carpets and allow the solution to begin breaking down the soil. We use just 2-3 gallons of cleaning solution in a typical home. That's a tenth of what is used by hot water extraction cleaners.
3. Extraction.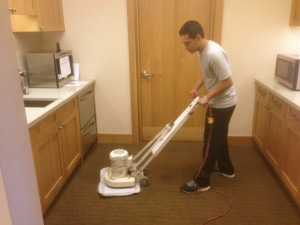 Our next step is what differentiates us from many other carpet cleaners. Instead of using a wand to suck up the solution, we use an oscillating machine with clean, absorbent towels to soak up the solution as well as the soil from your carpet. This provides necessary agitation as well as extraction of solution and soil.
Use your carpet in 2-3 Hours.
Less solution means less drying time. It also means fewer chemicals, so your carpet is left feeling soft, not crunchy. There's no sticky residue so carpet does not easily re-soil. If you want to see what came up, ask your cleaning technician to show you the used towels. We'll launder them and use them again.
Low moisture carpet cleaning saves water and is safe for the environment. It also saves your carpet. But the main reason our customers prefer low moisture carpet cleaning is CARPET IS CLEAN AND STAYS CLEAN!
Video demonstration of our Teri-towel Dry Carpet Cleaning system.
Two Dry Carpet Cleaning Systems:
Our HOST Dry Extraction System has no dry time. You can use your rug or carpet immediately.
Our Teri-Towel system leaves your rug dry in 2 to 3 hours.
Both systems have given us a good reputation and many repeat customers.
We feel both systems are superior to "steam cleaning" (hot water extraction) systems. Our systems have received some of the highest recommendations, such as Consumer Reports "excellent" rating; Washington State High Governor's Award; and they meet the strictest standards set by the Unified Green Cleaning Alliance.