(Updated April 22, 2015 – Earth Day)
The picture was sobering when Frank Gehrke walked through the meadow of Echo Summit, where the state Department of Water Resource measures snow pack every year on April 1. It's a familiar scene for those who watch the weather on TV. Usually, the man stabs his measuring pole through the snow to report the height of the snow pack, which provides a preview of the amount of water that will be available for homes and farms in California. Typically the state worker and his media entourage hike with snowshoes over five feet of snow. In the lowest year, they measured a few feet of snow.
This year, April 1, 2015, there were no snowshoes needed. Not even boots. For the first time in history, Gehrke walked on bare ground. No snow in sight. Clearly, this fourth year of drought in California is the worst. And it will take several years of above-average rain and snowfall before we begin to climb out of this hole. Drought is the new normal for California.
New California water restrictions
I wish we could all chuckle at a good April Fool's Day joke, but this was no laughing matter for Governor Jerry Brown as he announced strict water conservation measures. The governor directed the State Water Resources Control Board to impose a mandatory 25 percent reduction on the state's 400 local water supply agencies over the coming year.
"We're in a historic drought and that demands unprecedented action," Brown said at a news conference at the summit. "We have to pull together and save water in every way we can."
The state is primarily aiming at Californian's love of green front yards. Lawn irrigation will be limited to two days a week. But, will that be enough?
Most of us are already implementing the changes the state is demanding. We're already limiting our lawn watering? Many have eliminated lawns altogether. We're not allowing hoses to run and we've fixed leaky faucets. We're using less water to flush. Isn't that enough?
The state is requesting that water agencies raise the price of our most treasured resource. That's hitting where it hurts. It won't be long until California residents will get more imaginative in the ways we're cutting back on water use.
These mandatory water restrictions lead me to the question. Do you want your carpet cleaning professional to hook their truck up to your water spigot and pump dozens of gallons of your water into your carpet? Of course not.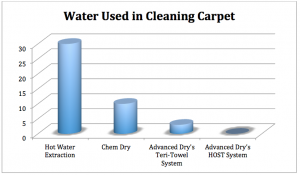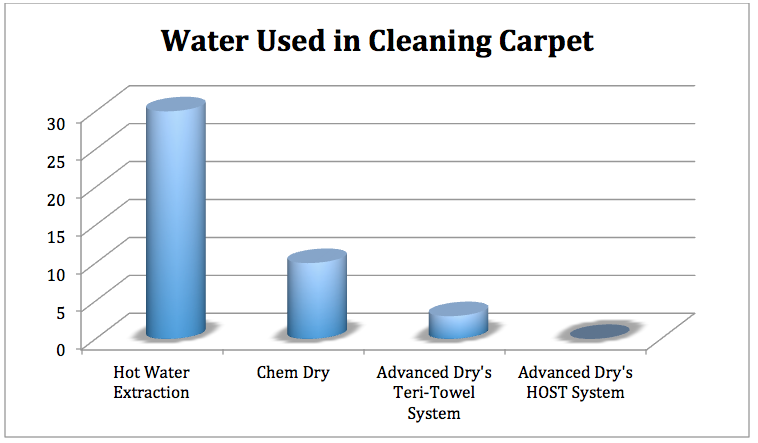 Hot water extraction cleaning or "steam cleaning" continues to be the carpet cleaning method of choice for many homes and carpet cleaners, despite the availability of new carpet cleaning technologies that are more effective and use much less water. Very Low Moisture (VLM) carpet cleaning technologies like the Teri-Towel System used by Advanced Dry Carpet Care use a tenth or less water than wet cleaners like Stanley Steemer, Coit, North Coast Carpet Care and most other carpet professionals who use 30-70 gallons of water in a typical home. We use 2-3 gallons of water in your home. Our Host Dry Extraction system uses no California water (Host uses about a teaspoon of water per square foot. Plus it's packed in Wisconsin). In addition there's no dumping of dirty water into our streams and rivers.
Of course it will take more than switching carpet cleaning methods to weather this drought, but this is one simple way to save water without compromising quality or price.
More on California Water Restrictions and Carpet Cleaning
Never tell California the odds. Not only has the state recovered from its record-breaking drought, it did so in record time. According to a new NOAA study looking at 445 years of climate data, California had a 1 percent chance of breaking the drought in just two years.
You remember the drought, right? Between 2012 to 2015, California's epic dry spell—its worst in recorded history—depleted reservoirs, melted mountain snow, and forced farmers and cities to recklessly suck up groundwater reserves. Things got so dire that, in 2014, governor Jerry Brown signed a state of emergency curtailing water use for cities and official business. Then came 2016's El Niño, then 2017's commute-clogging, weekend-ruining, and infrastructure-crippling onslaught of storms. These two years of successive soaking prompted Brown, barely a week ago, to announce that the state's drought emergency had ended…