Our carpet cleaning methods are Very Low Moisture (VLM) cleaning systems.

The Problem with Conventional Carpet Cleaning
Many hot water extraction methods ("steam-cleaning" or HWE) can over wet your carpet.  When carpet is wet several things can occur.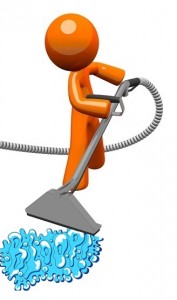 You can't use the room all day.
Soil is pushed down into carpet, backing and pad and may not come out.
Spots return As the water evaporates, it draws or wicks some of the dirt back up to the surface.
Carpet can separate from the backing.
Carpet may stretch and ripple.
Dye in carpet or rug may bleed and discolor.
Mold or Mildew may grow if carpet does not dry in 24-48 hours.
We use use very low moisture carpet cleaning methods, which may also be called "dry carpet cleaning." Water is needed and used, but we find we can get carpets and rugs just as clean – even cleaner – using a fraction of the water used by "steam cleaners."
Very Low Moisture Carpet Cleaning in Three Steps.
When we clean your carpet with our unique Teri-Towel system, we employ three simple steps:
1. Vacuuming.
We start our process with a thorough vacuuming. Soil comes up more easily if it is dry. Once we get up all we can with dry vacuuming, we're ready for the tougher soil.
2. Spraying.
We apply a light spray of our unique, all natural cleaning solution (no harsh chemicals) to your carpets and allow the solution to begin breaking down the soil. We use just 2-3 gallons of cleaning solution in a typical home. That's a tenth of what is used by hot water extraction cleaners.
3. Extraction.
Our next step is what differentiates us from many other carpet cleaners. Instead of using a wand to suck up the solution, we use an oscillating machine with clean, absorbent towels to soak up the solution as well as the soil from your carpet. This provides necessary agitation as well as extraction of solution and soil.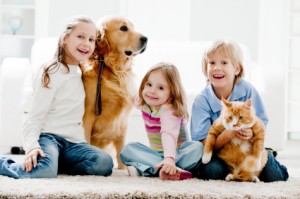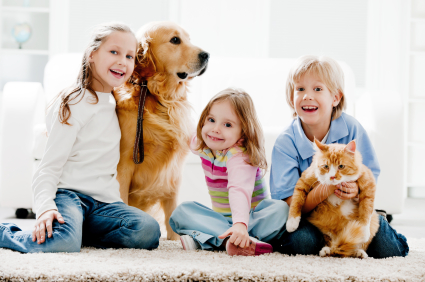 Use your carpet in 2-3 Hours.
Less solution means less drying time. It also means less chemicals, so your carpet is left feeling soft, not crunchy. There's no sticky residue so carpet does not easily resoil. If you want to see what came up, ask your cleaning technician to show you the used towels. We'll launder them and use them again.
Very Low Moisture carpet cleaning saves water and is good for the environment. It also saves your carpet. But the main reason our customers prefer Very Low Moisture carpet cleaning is CARPET IS CLEAN AND STAYS CLEAN!